クラウドで、
世界を、もっと、
はたらきやすく
Top-class AWS implementation results in Japan
Provide one-stop service from design proposal,
actual implementation, and managed operation.
Continuously certified as AWS Premier Consulting
Partner from 2014
AWS
Premier Consulting Partner
Certified continuously from 2014
7,500
of AWS Implementation projects
(as of end of Jan. 2020)
SERVICE
Service
---
Serverworks provides one-stop service from proposal, design and implementation, and managed operation
POINT
Why Serverworks
---
Explanation of why Serverworks has been selected as a best partner by so many customers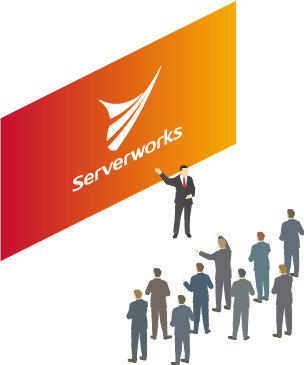 Abundant track record of implementation of core systems
The accumulated experience and know-how as an AWS specialized vendor since 2009 has resulted in more than 770 customers and more than 7,500 projects as of 2020. By AWS becomes popular, the implementation projects at large enterprises with more than 10,000 employees are increasing and we are accumulating our experience/expertise in such large scale implementations. Such track-record is one of the reason why enterprise customers are choosing Serverworks.
Provide original automation tool to optimize AWS operation
The advantage of implementing AWS is not only the total cost reduction, but also the customers can operate by "program". In order to make the most of the benefits of this automation in the age of the AI era, Serverworks started providing Japanese language based AWS operation automation tools in 2009, ahead of other companies. It was reborn as "Cloud Automator", the AWS operation automation service, and has already been used by more than 1,100 users.
One-stop service from proposal, design and implementation, and managed operation
Our company has been involved in various project with Universities, Public institution, and enterprise companies.
Especially for enterprise market, we have accumulated unique know-how when applying AWS as well as templates for building infrastructure so that we can provide one-stop services, from proposal, design and implementation to managed operation, by making use of our experiences. This is the greatest strength of Serverworks.
As a result, we acquired Japan's first AWS Partner Network (APN) qualification in 2014. In addition, we have been certified as an APN Premier Consulting Partner, the top tier AWS consulting partner since 2014.